 The country's premier hunting and fishing daily news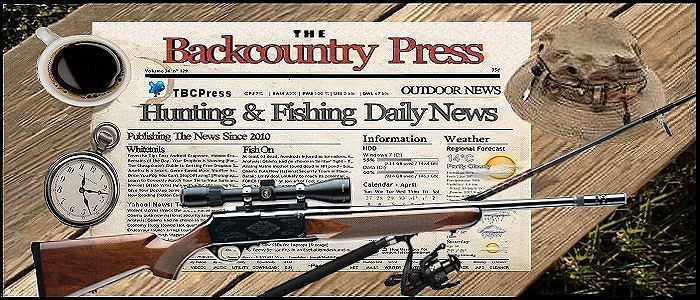 The Backcountry Outdoor News reports the latest hunting & fishing news along with fishing derbies & tournaments

          from:

---

©  2010 Backcountry Press Outdoor News - All Rights Reserved                                

BACKCOUNTRY  PRESS  is the country's premier daily hunting, fishing & outdoor news in the USA, Canada and more.  Read whats happening in your neck of the woods & beyond.

For those who provide updated
information in the field of hunting & fishing
, please don't hesitate to
contact us
to get
your articles added to our site. 



Kansas Advises Hunters on Protecting Your Dog From Harmful Algae
Posted on: 10/13/17


For duck hunters and their dogs, wading through mucky water is part of the experience, but one type of "muck" can be especially dangerous for four-legged hunting partners – harmful algae blooms (HAB). This season, if the water appears suspicious or there is decaying algae on the shore, hunters are urged to avoid contact and keep their dogs away. In addition...
Maine Hunters Advised how to Take Care Of Your Moose During Hunts
Posted on: 10/13/17



Temperatures at the start of the October Moose Hunt are predicted to be in the 70s, so moose hunters need to be prepared to process your moose quickly in order to take care of your moose meat. Warm weather affects your moose meat, so keep this in mind...
Maryland 2017 Early Muzzleloader Deer Hunting Season Opens Oct 19
Posted on: 10/13/17


The first segment of Maryland's muzzleloader deer season opens statewide Oct. 19. This is one of several deer hunting opportunities offered in the state and typically coincides with pleasant fall weather. The early muzzleloader season runs from Oct. 19-21 in Deer Management Regions A and B. Region A consists of Garrett, Allegany and...
Tips on Better Mushroom Hunting
Posted on: 10/13/17



Rains that appear early during fall paired with periods of warm, dry weather, are ideal conditions for producing some of the season's first flushes of wild mushrooms. The ever popular white and yellow chantrelles and other varieties, begin to show in increasing numbers. Chantrelles are one of the most common varieties, and there is an abundance of them along the...
Rhode Island 2017 Upland Bird & Small Game Season Opens Oct 21
Posted on: 10/13/17



The Rhode Island Department of Environmental Management (DEM) small game hunting season opens in October. The season for pheasant, cottontail rabbit, gray squirrel, bobwhite quail, red and gray fox opens Saturday, October 21 – Wednesday, February 28, 2018. Season dates were misprinted on...
Vermont Fall Fishing Action Heating Up Across State
Posted on: 10/13/17


A recent mix of cool nights and unseasonably warm days has created optimal conditions for fall fishing, and anglers throughout Vermont are reporting that the action is beginning to pick up for both warm and cold-water fish species. Summertime conditions seemed to delay the fall bite a little bit, but cooler nights in the past few weeks have started to...
Washington Steelhead Fishing Opens Oct 15 on Snake River
Posted on: 10/13/17



Beginning Oct. 15, anglers can keep two hatchery steelhead daily in sections of the Snake River and some streams in southeast Washington. The fishing rule changes announced by the Washington Department of Fish and Wildlife (WDFW) affect the following areas...