 The country's premier hunting and fishing daily news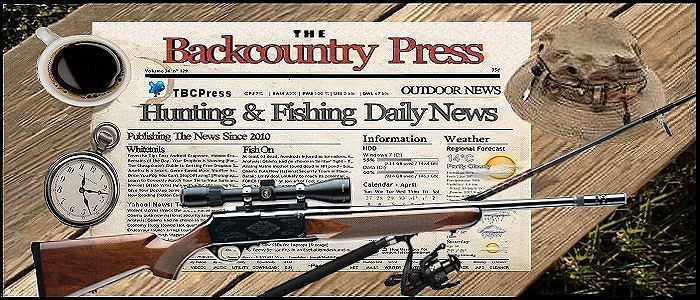 The Backcountry Outdoor News reports the latest hunting & fishing news along with fishing derbies & tournaments

          from:

---

©  2010 Backcountry Press Outdoor News - All Rights Reserved                                

BACKCOUNTRY  PRESS  is the country's premier daily hunting, fishing & outdoor news in the USA, Canada and more.  Read whats happening in your neck of the woods & beyond.

For those who provide updated
information in the field of hunting & fishing
, please don't hesitate to
contact us
to get
your articles added to our site. 



Florida Approves Several Changes to Gulf Cobia Management
Posted on: 12/08/17



the Florida (FWC) took final action to approve several changes to the management of cobia in state waters of the Gulf of Mexico. These changes are based on stakeholder input and concerns from anglers, and will further promote sustainable management of this fishery. Approved changes will go into effect
Florida Approves Changes to Gulf Greater Amberjack Season
Posted on: 12/08/17



The Florida Fish and Wildlife Conservation Commission (FWC) set the greater amberjack recreational season in Gulf state waters to open May 1-31 and Aug. 1-Oct. 31. This change is similar to pending changes in Gulf federal waters. Greater amberjack is overfished and undergoing overfishing, and the season has closed increasingly early in recent years due to federal quotas being met or exceeded. This new season structure will...
Kansas Confirms Invasive Zebra Mussels Found In Geary State Fishing Lake
Posted on: 12/08/17



The Kansas Department of Wildlife, Parks and Tourism (KDWPT) has confirmed the presence of invasive zebra mussels in Geary State Fishing Lake in Geary County. Zebra mussel larvae, also called veligers, were detected in routine samples collected by KDWPT staff. With this discovery...
Keep Your Bird Dogs Safe in Cold Weather - Follow These Tips
Posted on: 12/08/17


Pay special attention to your bird dogs when the temps dip on late-season hunts. Our bird dogs give 100 percent, and often they don't know when to stop. We love that about them, but the responsibility to protect them is on our shoulders. And it's not just big water that can be dangerous....
North Carolina Seeks Input on Migratory Bird Hunting on Sunday
Posted on: 12/08/17



What do you think about allowing migratory bird hunting on Sunday? Currently Sunday hunting for migratory birds, including waterfowl, is prohibited. The N.C. Wildlife Resources Commission urges you to attend a public meeting and share your opinion...
North Carolina Seeks Input on Changes to Deer, Bear Hunting
Posted on: 12/08/17



The N.C. Wildlife Resources Commission has opened the public comment period for proposed changes to agency regulations related to wildlife management, inland fisheries and game lands for the 2018-19 seasons. The changes that would affect High Country hunters would be regarding deer and bear hunting season...
Washington, Oregon Delay Opening of Commercial Crab Fishing
Posted on: 12/08/17


The Washington Department of Fish and Wildlife (WDFW) is again delaying the opening of the commercial Dungeness crab fishery in the state's coastal waters to allow time for crab along the West Coast to fill with more meat. The decision was made in coordination with shellfish managers from Oregon and California, where...