 The country's premier hunting and fishing daily news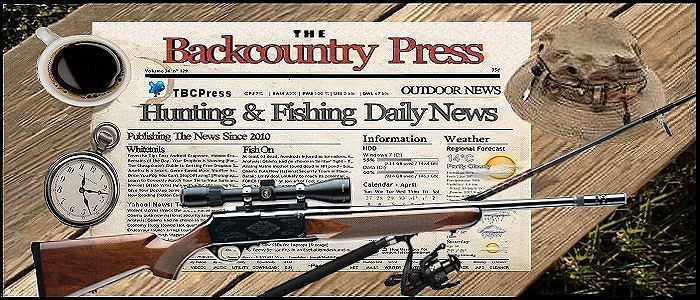 The Backcountry Outdoor News reports the latest hunting & fishing news along with fishing derbies & tournaments

          from:

--- Upland Bird Hunting News - Submitted by:  Backcountry Outdoor News

The latest hunting news and information for upland birds in your neck of the woods and beyond. Includes: grouse, pheasant, quail, partridge, ptarmigan  and dove.

The latest news is listed first.

If you are looking for more news please visit our:
ARCHIVES
©  2010 Backcountry Press Outdoor News - All Rights Reserved                                

Disclaimer:  The views expressed on this site are that of the authors and not necessarily that of The Backcountry Press Outdoor News

BACKCOUNTRY  PRESS  is the country's premier daily hunting, fishing & outdoor news in the USA, Canada and more.  Read whats happening in your neck of the woods & beyond.

For those who provide updated information in the field of hunting & fishing, please don't hesitate to contact us  to get your articles added to our site. 


Top Article
10 Pheasant Hunting Tips


Here are 10 tips from some of the best pheasant hunters around –hunting guides, state wildlife area managers and hunting club owners –on how to find more birds on public and private lands throughout the West...


Delaware Snipe & Woodcock Seasons Continue Through Jan 13, 2018
Posted on: 12/18/17


DNREC's Division of Fish & Wildlife reminds Delaware hunters that the state's second season split for snipe and woodcock continues through Saturday, Jan. 13, 2018. Hunters in each of Delaware's three counties have opportunities for taking woodcock on...
Wisconsin Releasing More Pheasants For Hunting Before Holidays
Posted on: 12/13/17



Wisconsin bird hunters will have another option to beat cabin fever in December when the DNR releases nearly 1,500 additional pheasants on five public properties before the holiday season. These one-time stocking efforts, are in addition to the 75,000 birds released throughout the season. Properties to be stocked before the holiday season include...
Michigan DNR Confirms West Nile Virus in Ruffed Grouse
Posted on: 12/05/17


For the first time, the Michigan Department of Natural Resources recently confirmed the presence of West Nile Virus in the state's ruffed grouse population. Five birds collected from August through October, including two found dead and three that were shot by hunters, were...
WDFW Proposes to Keep Columbian Sharp-Tailed Grouse on States Endangered List
Posted on: 12/04/17


The WDFW commission will hold a public hearing Dec. 7-9 in Olympia on the state wildlife managers' recommendation to continue to classify the Columbian sharp-tailed grouse as threatened under state law. Given the low statewide population and precarious status of local populations, it is recommended that...
Michigan Pheasant Restoration Initiative Goals now available online
Posted on: 12/01/17



The Michigan Pheasant Restoration Initiative has developed a document outlining the coalition's goals for the next several years. Work outlined in the Michigan Pheasant Restoration Initiative Goals for 2016-2020 is already under way. The Michigan Pheasant Restoration Initiative aims to...
Arizona Hunters Get Second Shot at Doves Beginning Nov 24
Posted on: 11/21/17


Arizona dove hunters will be able to double their wing-shooting pleasure when the state's "second" season begins Friday, Nov. 24. Unlike the 15-day season that begins Sept. 1, the late season lasts 45 days and runs through...
New Jersey 2017 Pheasant Season Update
Posted on: 11/20/17



The 2017 pheasant season is now under way and thousands of birds are being distributed throughout the state. This year marks the final phase in the full implementation of the NJDEP Division of Fish and Wildlife's new Pheasant Allocation Formula (PAF). The PAF was phased in beginning...
Some North Dakota Refuges Open to Late-Season Upland Game
Posted on: 11/20/17



Hunters are reminded that several North Dakota national wildlife refuges open to late-season upland game bird hunting the day after the deer gun season closes.The national wildlife refuges opening Nov 27 are...