The country's premier daily hunting, fishing & outdoor news in the USA, Canada and more.  Read whats happening in your neck of the woods & beyond. Choose your language above and read our news in English, Deutsche, Espanol, Francese, Irlandesi or Italiano




The Backcountry Outdoor News reports the latest hunting and, fishing news along with fishing derbies and tournaments

         from:

---


Whether an event is for freshwater, saltwater, open water or ice fishing, they are listed in our directory. 






©  2010 Backcountry Press Outdoor News - All Rights Reserved                                                                                                                                            Website Design by:


Upland Bird Hunting News - Submitted by:  The Backcountry Press (TBC Press)

The latest hunting news and information for upland birds in your neck of the woods and beyond. Includes: grouse, pheasant, quail, partridge, ptarmigan  and dove.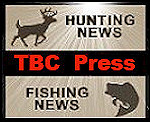 10 Pheasant Hunting Tips


Here are 10 tips from some of the best pheasant hunters around –hunting guides, state wildlife area managers and hunting club owners –on how to find more birds on public and private lands throughout the West...

  Trending Now                                                                                                            More News In Our Archives

Oregon is 3rd State to Join Coalition Encouraging Hunters to Choose Non-Lead Ammo
Posted on: 07/10/18



Three state wildlife agencies — the Arizona Game and Fish Department, Utah Division of Wildlife Resources, and Oregon Department of Fish and Wildlife — have recently joined The North American Non-Lead Partnership, and at least five sports groups have pledged their support. The North American Non-Lead Partnership works to engage hunters and other wildlife enthusiasts by...
Apply for Mississippi 2018 Youth Dove Hunts Starting Aug 1st
Posted on: 07/07/18


Beginning August 1, the Mississippi Department of Wildlife, Fisheries, and Parks (MDWFP) will accept draw permit applications for 2018 youth dove hunts. Participants must register online to attend these hunts. Applications will be accepted on a first come first serve basis. Each hunt will be limited to...
Apply for Utah 2018 Upland Bird Hunting Permits by July 19
Posted on: 07/07/18



Utah is accepting applications for tundra swan, sharp-tailed grouse, greater sage grouse and sandhill crane. If you'd like to hunt any of these birds this fall, you must have a special permit. To get your application in the drawing for permits, you must...
Wyoming Accepting Applications for 2018 Glendo & Springer Special Pheasant Hunts
Posted on: 07/06/18



Wyoming is accepting applications for 2018 Glendo and Springer Special Pheasant Hunts. July 2 to Sept 17. Applications are available online for residents and non-residents. Hunters are reminded that in addition to appropriate licensing, the $12.50 pheasant special management permit is required for...
Minnesota Ruffed and Sharp-Tailed Grouse Numbers Down
Posted on: 07/05/18



Minnesota's ruffed grouse spring drumming counts were down 29 percent statewide this year compared to last year, according to a survey conducted by the DNR. The 2018 survey results for ruffed and sharp-tailed grouse indicate...
Montana Sets 2018-19 Upland Dove and Webless Bird Regulations
Posted on: 06/28/18


Montana Upland dove and webless migratory bird regulations are already complete for the 2018-19 hunting seasons. Montana's migratory bird regulations, set within the federal frameworks, will be very similar to last year. Mourning dove season dates will be...