The country's premier daily hunting, fishing & outdoor news in the USA, Canada and more.  Read whats happening in your neck of the woods & beyond.




The Backcountry Outdoor News reports the latest hunting and, fishing news along with fishing derbies and tournaments

         from:

---


Whether an event is for freshwater, saltwater, open water or ice fishing, they are listed in our directory. 






©  2010 Backcountry Press Outdoor News - All Rights Reserved                                                                                                                                            Website Design by:


Turkey Hunting News - Submitted by:  The Backcountry Press (TBC Press)

The latest news and information for turkey hunting in your neck of the woods and beyond.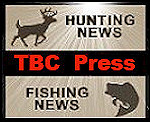 Accomplishing the Turkey Grand Slam on a Budget


Jeff Budz of Florida has completed a Super Slam — killing a wild turkey in each of the 49 states. He also has more Grand Slams. He shares his insight on how to accomplish this realistic goal...
The Best Resource For Turkey Hunting In The Nation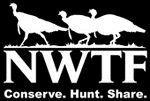 What we do in the coming decades will be instrumental in not only enhancing wild turkey populations but also in the continuation of hunting and quality wildlife habitat for countless species. NWTF is making a difference for wildlife, wild places and our hunting lifestyle....

  Trending Now                                                                                                            More News In Our Archives

Pennsylvania Sets 2018-19 Turkey Hunting Seasons
Posted on: 05/03/18



The Pennsylvania Board of Game Commissioners recently gave final approval for fall turkey seasons for 2018 and spring gobbler seasons for 2019. The board for the second consecutive year approved a conservative, midweek fall turkey season in...
New Jersey 2018 Spring Turkey Hunting Kicks Off -- Outlook Good
Posted on: 04/23/18


The NJ 2018 regular spring turkey season kicks off April 23 and runs for five weeks. Over the counter permits are now available and can be purchased at license agents or online. Permits will be available as long as the permit supply lasts or the season ends. Pemits purchased online cannot be printed at home so...
Kentucky Opens Additional Property to Public Access
Posted on: 04/20/18



The Kentucky Department of Fish and Wildlife Resources has opened more land for public use. Old Trace Creek Wildlife Management Area (WMA) is a 323-acre property near the community of Emerson in Lewis County. Hunting on the WMA is allowed under statewide regulations. Turkey, squirrel and deer are going to be the big three. There's the possibility of some...
South Carolina Needs Volunteers for Wild Turkey Hunter Survey
Posted on: 04/19/18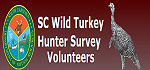 The SCDNR Big Game Program is interested in better understanding the experiences, techniques and factors of success for Wild Turkey hunters in South Carolina. In order to do that we need the input of dedicated turkey hunters. If you hunt turkeys in South Carolina and would like to help out...
Michigan 2018 Spring Turkey Hunting Season Opens April 23
Posted on: 04/18/18



Plentiful birds, 10 million-plus acres of public land available for hunting, and Michigan spring turkey season just days away – don't miss your chance to gobble up some prime hunting April 23-May 31. in 1977, hunters had a 1-in-4 chance of getting a spring turkey license, and only...