The country's premier daily hunting, fishing & outdoor news in the USA, Canada and more.  Read whats happening in your neck of the woods & beyond.




The Backcountry Outdoor News reports the latest hunting and, fishing news along with fishing derbies and tournaments

         from:

---


Whether an event is for freshwater, saltwater, open water or ice fishing, they are listed in our directory. 






©  2010 Backcountry Press Outdoor News - All Rights Reserved                                                                                                                                            Website Design by:


Duck - Waterfowl Hunting News - Submitted by:  The Backcountry Press (TBC Press)

The latest hunting news and information for ducks, geese & other waterfowl in your neck of the woods and beyond. Includes: teal ducks, geese, sandhill crane, woodcocks, swans and other waterfowl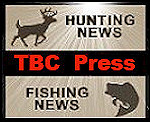 Keep Your Bird Dogs Safe in Cold Weather - Follow These Tips

Pay special attention to your bird dogs when the temps dip on late-season hunts. Our bird dogs give 100 percent, and often they don't know when to stop. We love that about them, but the responsibility to protect them is on our shoulders. And it's not just big water that can be dangerous....
How to Hunt Big-Water Ducks in Winter
Chasing ducks on big water is one of the most dangerous hunts in North America. But if you respect the risk and are willing to work hard, it's one of the most rewarding, too. Big lakes, rivers, and coastlines—many open to public hunting—provide incredible opportunities for a variety of duck species at this time of year. But the threats of hypothermia and drowning cannot be overstated. If you're going to be a late-season big-­water hunter, the advice from these pros will make you more successful—and help keep you safe. A little prayer never hurts, either...

  Trending Now                                                                                                            More News In Our Archives

Connecticut Restores Handicapped Hunting Blind at Babcock Pond WMA
Posted on: 05/09/18



Thanks to a generous donation from the Connecticut Waterfowlers Association, the DEEP Wildlife Division was able to renovate and restore a handicapped accessible waterfowl hunting blind at Babcock Pond Wildlife Management Area (in Colchester and East Haddam). The blind is located on...
Kansas Sets 2018-19 Waterfowl Hunting Seasons
Posted on: 05/03/18


The Kansas Wildlife, Parks and Tourism (KWPT) Commission approved recommendations for the state's 2018-2019 waterfowl seasons during the public hearing portion of the Commission's April 26 meeting in Chanute. The approved season dates are as follows...
North Carolina Sets 2018-2019 Migratory Game Bird Seasons
Posted on: 04/30/18


The N.C. Wildlife Resources Commission set season dates, bag limits and applicable regulations for the 2018-19 waterfowl, webless migratory game bird (including doves) and extended falconry seasons. While many seasons remain unchanged, some notable changes are...
New Hampshire Sets 2018-19 Waterfowl Hunting Seasons
Posted on: 04/25/18


The New Hampshire Fish and Game Department has set final season dates and bag limits for the 2018-19 waterfowl hunting season. New Hampshire's fall waterfowl season will be similar to last year's for regular ducks. The regular duck season is 60 days, with...
California Sets 2018-19 Waterfowl Regulations
Posted on: 04/23/18


The California Fish and Game Commission adopted the 2018-19 waterfowl hunting regulations at their regularly scheduled meeting on April 19. The pintail daily bag limit has returned to two, and there have been some changes to accommodate a longer...