 The country's premier hunting and fishing daily news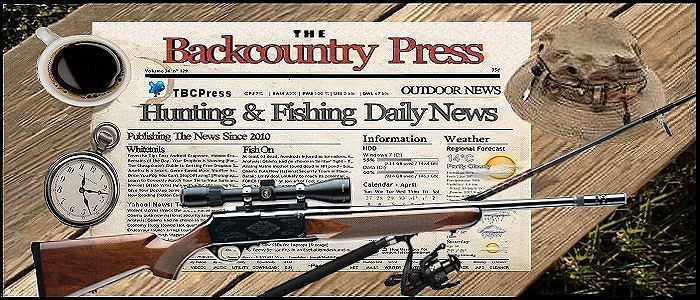 The Backcountry Outdoor News reports the latest hunting & fishing news along with fishing derbies & tournaments

          from:

--- Duck - Waterfowl Hunting News - Submitted by:  Backcountry Outdoor News

The latest hunting news and information for ducks, geese & other waterfowl in your neck of the woods and beyond. Includes: teal ducks, geese, sandhill crane, woodcocks, swans and other waterfowl

The latest news is listed first.

If you are looking for more news please visit our:
ARCHIVES

©  2010 Backcountry Press Outdoor News - All Rights Reserved                                

Disclaimer:  The views expressed on this site are that of the authors and not necessarily that of The Backcountry Press Outdoor News

BACKCOUNTRY  PRESS  is the country's premier daily hunting, fishing & outdoor news in the USA, Canada and more.  Read whats happening in your neck of the woods & beyond.

For those who provide updated information in the field of hunting & fishing, please don't hesitate to contact us to get your articles added to our site. 

Top Article
Keep Your Bird Dogs Safe in Cold Weather - Follow These Tips

Pay special attention to your bird dogs when the temps dip on late-season hunts. Our bird dogs give 100 percent, and often they don't know when to stop. We love that about them, but the responsibility to protect them is on our shoulders. And it's not just big water that can be dangerous....
How to Hunt Big-Water Ducks in Winter
Chasing ducks on big water is one of the most dangerous hunts in North America. But if you respect the risk and are willing to work hard, it's one of the most rewarding, too. Big lakes, rivers, and coastlines—many open to public hunting—provide incredible opportunities for a variety of duck species at this time of year. But the threats of hypothermia and drowning cannot be overstated. If you're going to be a late-season big-­water hunter, the advice from these pros will make you more successful—and help keep you safe. A little prayer never hurts, either...


CDFW Offering Holiday Apprentice Youth Waterfowl Hunt
Posted on: 12/18/17



The California Department of Fish and Wildlife (CDFW) is offering a special apprentice youth waterfowl hunt at the Grizzly Island Wildlife Area in Solano County on Wednesday, Dec. 27 – a rare, midweek hunt for young hunters during their holiday break from school. The 12 blinds in the Crescent Unit of the wildlife area will be
Delaware Snipe & Woodcock Seasons Continue Through Jan 13, 2018
Posted on: 12/18/17


DNREC's Division of Fish & Wildlife reminds Delaware hunters that the state's second season split for snipe and woodcock continues through Saturday, Jan. 13, 2018. Hunters in each of Delaware's three counties have opportunities for taking woodcock on...
Pennsylvania Recently Approved Electronic Devices Lawful for Hunting
Posted on: 12/15/17



The Pennsylvania Board of Game Commissioners gave final approval to a measure to allow the devices. Four electronic devices recently approved for use while hunting now may be used afield. Within established seasons, hunters now may use electronic decoys in hunting waterfowl and...
Enjoy Top-Notch Duck Hunting on Texas Gulf Coast Through Jan 28
Posted on: 12/15/17


Enjoy top-notch duck hunting on the Texas Gulf Coast. The 54-county South Zone (which includes Port O'Connor and Calhoun County) 2017-18 Texas duck season runs through Jan. 28. Typically, after the break the hunting gets a little better because it gets cold up north and more birds move. But those birds have...
South Dakota Anglers & Waterfowl Hunters Urged to use Caution
Posted on: 12/14/17



A strange beginning to the winter season has officials urging both waterfowl hunters and ice anglers to use caution when venturing out to hunt and fish. Even with this last blast of cold weather, there is still plenty of open water for duck hunting," said Joe Keeton, South Dakota Game, Fish and Parks (GFP) boating safety officer. Ice anglers need to remember...
North Carolina Seeks Input on Migratory Bird Hunting on Sunday
Posted on: 12/08/17



What do you think about allowing migratory bird hunting on Sunday? Currently Sunday hunting for migratory birds, including waterfowl, is prohibited. The N.C. Wildlife Resources Commission urges you to attend a public meeting and share your opinion...
Arkansas Waterfowl Deaths Linked to Avian Cholera
Posted on: 12/04/17



During the last four weeks, waterfowl have been reported dead at seven localized areas in northeast and east central Arkansas. Four of these incidents included white-fronted geese (specklebellies) and a small number of dabbling ducks. Three other incidents have included...
Delaware Waterfowl Hunting Reopens December 8th
Posted on: 12/04/17



Delaware waterfowl hunters are gearing up for the state's third and final waterfowl split season, which runs from Friday, Dec. 8 thru Saturday, Jan. 27, 2018. "Through the end of January, we conduct aerial waterfowl surveys every two weeks and we typically see...
More Florida Waterfowl Hunting Opens Dec 9, 2017
Posted on: 12/04/17



The traditional image of men escaping for the weekend to experience the thrill and challenge of outdoor activities such as hunting, fishing and shooting may be as antiquated as the gender make-up in the boardroom in scenes from television's Mad Men. Annie it seems has definitely got her gun, and hunting license and.
Register by Dec 29 for Central Illinois Youth Goose Hunt
Posted on: 11/30/17



Youth interested in participating in the annual Central Illinois Youth Goose Hunt may register now for the hunt scheduled for January 14-15, 2018. The registration deadline of Friday, December 29. The youth goose hunt will be held at...