The country's premier daily hunting, fishing & outdoor news in the USA, Canada and more.  Read whats happening in your neck of the woods & beyond. Choose your language above and read our news in English, Deutsche, Espanol, Francese, Irlandesi or Italiano




The Backcountry Outdoor News reports the latest hunting and, fishing news along with fishing derbies and tournaments

         from:

---


Whether an event is for freshwater, saltwater, open water or ice fishing, they are listed in our directory. 






©  2010 Backcountry Press Outdoor News - All Rights Reserved                                                                                                                                            Website Design by:


Duck - Waterfowl Hunting News - Submitted by:  The Backcountry Press (TBC Press)

The latest hunting news and information for ducks, geese & other waterfowl in your neck of the woods and beyond. Includes: teal ducks, geese, sandhill crane, woodcocks, swans and other waterfowl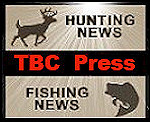 Helpful Hints for Waterfowlers to Improve Hunting Success

Would you like to improve your waterfowling success and make each trip a bit safer and more enjoyable? These 30 tips from Ducks Unlimited could help. First, Avoid Foul Weather Fowl-ups - Duck caller reeds sometimes freeze or stick in frigid weather. Prevent gum-ups by using a product such as Rain-X or Aquapel that's made to deter rain, snow and ice buildup on windshields. A few drops rubbed on...
Keep Your Bird Dogs Safe in Cold Weather - Follow These Tips

Pay special attention to your bird dogs when the temps dip on late-season hunts. Our bird dogs give 100 percent, and often they don't know when to stop. We love that about them, but the responsibility to protect them is on our shoulders. And it's not just big water that can be dangerous....

  Trending Now                                                                                                            More News In Our Archives

Oregon is 3rd State to Join Coalition Encouraging Hunters to Choose Non-Lead Ammo
Posted on: 07/10/18



Three state wildlife agencies — the Arizona Game and Fish Department, Utah Division of Wildlife Resources, and Oregon Department of Fish and Wildlife — have recently joined The North American Non-Lead Partnership, and at least five sports groups have pledged their support. The North American Non-Lead Partnership works to engage hunters and other wildlife enthusiasts by...
Apply for Mississippi 2018 Early Season Teal Hunts Starting Aug 1st
Posted on: 07/07/18


Beginning August 1, the Mississippi Department of Wildlife, Fisheries, and Parks (MDWFP) will accept draw permit applications for 2018 early season teal hunts on Wildlife ManagementAreas (WMAs) through August 15. Applicants must apply online. The early September teal season is Sept 15 - Sept 30. Daily bag limits is
Wisconsin Sets 2018 Waterfowl Season & Regulations
Posted on: 07/05/18


With earlier approval dates, 2018 migratory bird season regulations are currently available online and at many license vendors throughout Wisconsin. As a reminder there were several significant changes to the 2018 waterfowl hunting season structure...
Montana Sets 2018-19 Duck & Migratory Bird Regulations
Posted on: 06/28/18


Montana duck and migratory bird regulations are already complete for the 2018-19 hunting seasons. With all of the water and ducks across Montana this summer, there are signs that it could be an interesting and productive waterfowl season for Montana hunters. Montana's migratory bird regulations, set within the federal frameworks, will be very similar to last year...
Minnesota Breeding Duck & Canada Goose Numbers Improved from Last Year
Posted on: 06/27/18


Population counts showed good results for several species of ducks that nest in Minnesota, according to the results of the annual Department of Natural Resources spring waterfowl surveys. "Mallard, blue-winged teal and Canada goose counts were all improved from last year," said Steve Cordts, DNR waterfowl specialist. The survey...
Illinois 2018 Schedule of Waterfowl Blind Site Drawings
Posted on: 06/26/18


Waterfowl hunters are encouraged to mark their calendars for upcoming waterfowl hunting blind site random drawings to be held at several public hunting areas in Illinois on July 28 and 29. Duck and goose hunters must register in person for waterfowl blind site drawings and must be present at the drawing – held at...
North Dakota 2018 Spring Breeding Duck Numbers Tallied
Posted on: 06/26/18


The North Dakota Game and Fish Department's 71st annual spring breeding duck survey conducted in May showed an index of 2.8 million birds, down 5 percent from last year. Migratory game bird supervisor Mike Szymanski said even though the index is below 3 million for the second consecutive year, it still...