 The country's premier hunting and fishing daily news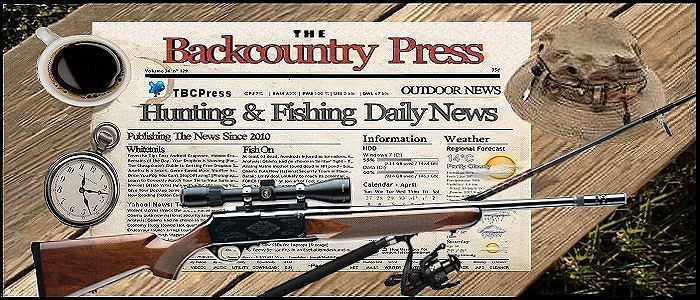 The Backcountry Outdoor News reports the latest hunting & fishing news along with fishing derbies & tournaments

          from:

--- Duck - Waterfowl Hunting News - Submitted by:  Backcountry Outdoor News

The latest hunting news and information for ducks, geese & other waterfowl in your neck of the woods and beyond. Includes: teal ducks, geese, sandhill crane, woodcocks, swans and other waterfowl

The latest news is listed first.

If you are looking for more news please visit our:
ARCHIVES

©  2010 Backcountry Press Outdoor News - All Rights Reserved                                

Disclaimer:  The views expressed on this site are that of the authors and not necessarily that of The Backcountry Press Outdoor News

BACKCOUNTRY  PRESS  is the country's premier daily hunting, fishing & outdoor news in the USA, Canada and more.  Read whats happening in your neck of the woods & beyond.

For those who provide updated information in the field of hunting & fishing, please don't hesitate to contact us to get your articles added to our site. 

Top Article
Keep Your Bird Dogs Safe in Cold Weather - Follow These Tips

Pay special attention to your bird dogs when the temps dip on late-season hunts. Our bird dogs give 100 percent, and often they don't know when to stop. We love that about them, but the responsibility to protect them is on our shoulders. And it's not just big water that can be dangerous....
How to Hunt Big-Water Ducks in Winter
Chasing ducks on big water is one of the most dangerous hunts in North America. But if you respect the risk and are willing to work hard, it's one of the most rewarding, too. Big lakes, rivers, and coastlines—many open to public hunting—provide incredible opportunities for a variety of duck species at this time of year. But the threats of hypothermia and drowning cannot be overstated. If you're going to be a late-season big-­water hunter, the advice from these pros will make you more successful—and help keep you safe. A little prayer never hurts, either...


Arkansas Raft Creek Restoration Developing into Duck Magnet
Posted on: 02/26/18


Despite horrible conditions throughout Arkansas for much of the 2017-18 waterfowl season, one wildlife management area has continued to provide hunters with increasingly good hunts since its purchase. Steve N. Wilson Raft Creek Bottoms WMA in White County turned in impressive harvest numbers, especially...
Vermont 2018 Spring Snow Goose Conservation Order Opens March 11
Posted on: 02/23/18



Vermont 2018 spring snow goose conservation order opens March 11 and runs through April 27. Legal species include Snow Geese (includes Blue Geese) and Ross' Geese. Daily Bag Limit:15 and no possession limit. Requirements to hunt are...
North Dakota Finalizes 2018-19 Duck Hunting Season
Posted on: 02/19/18


The South Dakota Game, Fish and Parks (GFP) Commission adjusted the season dates of the Low Plains South duck hunting zone for the 2018 hunting season; the start date was changed to the fourth Saturday of October from the second Saturday of October. The GFP Commission also...
South Dakota Changes 2018-19 Early Fall Goose Season and Units
Posted on: 02/19/18



The South Dakota (GFP) Commission recently made changes to the early fall Canada goose hunting seasons. The South Dakota (GFP) Commission also adjusted the season dates of the Low Plains South duck hunting zone for the 2018 hunting season.
Tennessee Proposed 2018-19 Waterfowl Hunting Regulations
Posted on: 02/19/18


The 2018-19 state waterfowl hunting regulations will be among the agenda items addressed when the Tennessee Fish and Wildlife Commission meets Feb. 27-28 in Nashville The public is invited to attend. Proposed changes include...
Maryland Survey Estimates Ducks, Geese Numbers Higher than 5-year Average
Posted on: 02/15/18



Each winter, aerial survey teams of biologists from the Maryland Department of Natural Resources and U.S. Fish and Wildlife Service make visual estimates of ducks, geese and swans along the state's coast and shoreline. This year, teams counted about 1,023,300 waterfowl, well above the...
New Jersey 2018 Spring Light (Snow) Goose Conservation Order Opens Feb 16
Posted on: 02/12/18



The NJDEP Division of Fish and Wildlife will again implement a Conservation Order (CO) in New Jersey for light geese during the winter/spring of 2018. The CO allows an extended time period and additional methods for taking light geese without bag limits. The CO dates are February 16 - April 7, 2018, except...
North Dakota 2018 Spring Light Goose Conservation Order Opens Feb 17
Posted on: 02/12/18



North Dakota's spring light goose conservation order opens Feb. 17 and continues through May 13. Residents must have a valid current season 2017-18 (valid through March 31) or 2018-19 (required April 1) combination license; or a small game, and general game and habitat license. Nonresidents need ...
Kansas 2018 Light Goose Conservation Order Opens Feb 19
Posted on: 02/08/18



The Kansas Light Goose Conservation Order, Feb. 19-April 30, 2018, is a unique, federally-authorized season designed to increase harvest of overabundant "light" geese (Ross' geese, and both lesser and greater snow geese). To increase hunter success, the special season permits hunting methods not allowed during the regular goose seasons, including...