 The country's premier hunting and fishing daily news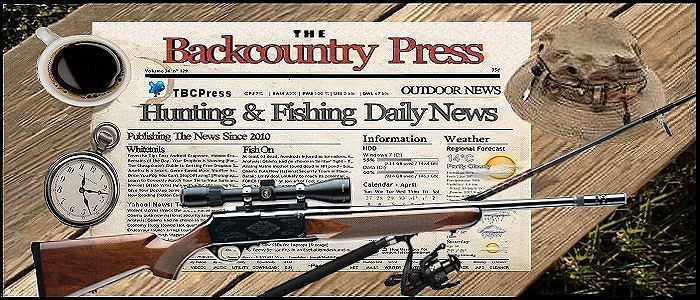 The Backcountry Outdoor News reports the latest hunting & fishing news along with fishing derbies & tournaments

          from:

--- Big Game Hunting News - Submitted by:  Backcountry Outdoor News

The latest news and information for big game hunting in your neck of the woods and beyond.  Includes: Alligator, Bear, Caribou, Moose, Mountain Lion, Muskox, Bighorn Sheep, Mountain Goat, Bison and Wolf

The latest news is listed first.

If you are looking for more news please visit our:
ARCHIVES

©  2010 Backcountry Press Outdoor News - All Rights Reserved                                

Disclaimer:  The views expressed on this site are that of the authors and not necessarily that of The Backcountry Press Outdoor News

BACKCOUNTRY  PRESS  is the country's premier daily hunting, fishing & outdoor news in the USA, Canada and more.  Read whats happening in your neck of the woods & beyond.

For those who provide updated information in the field of hunting & fishing, please don't hesitate to contact us to get your articles added to our site. 

Top Article
Why Africa Hunting is More Affordable than You Think


Many hunters dream of at least one wondrous hunting adventure. I know some long for the out West elk or mule deer hunt. Others dream of moose in Alaska or big horns in British Columbia. All true hunters think of Africa and a safari. Fortunately, it is affordable, epically challenging, and potentially life changing. Here's why...
Moose Hunting Tips & Techniques


Moose are the largest of the deer family with seven different sub-species recognized in the world, four of which inhabit North America. They are the Alaskan, Shiras, Canadian and Yukon moose. Generally speaking, an area which includes both young trees and swampy lakes would be considered prime moose country. Here are some good tips and techniques for hunting these big game trophies...


Pennsylvania Preliminary 2017 Statewide Bear Harvest Results
Posted on: 12/15/17



Hunters during the final day of Pennsylvania's statewide bear season harvested 168 bears, raising the 2017 statewide season harvest to 1,796 – an about 30 percent decrease compared to the 2,579 bears taken during the four days of the statewide season in 2016. Extensive rain on...
US to Review End of Protections for Yellowstone Grizzlies
Posted on: 12/07/17



U.S. officials said Wednesday they'll review the recent lifting of protections for Yellowstone-area grizzly bears in light of a court ruling that retained protections for gray wolves in the Great Lakes. Just a day later, a federal appeals court in...
Deadline to Apply for Wisconsin 2018 Black Bear Hunting is Dec 10
Posted on: 12/06/17


Wisconsin black bear hunters are reminded to submit their applications before midnight on Dec 10. Applications for permit drawings can be purchased through Go Wild or at authorized license agents. Harvest numbers from the 2017 black bear season are not yet finalized, but...
Contracted Florida Nuisance Alligator Trappers Sought for Duval County
Posted on: 12/04/17



The Florida Fish and Wildlife Conservation Commission's (FWC) Statewide Nuisance Alligator Program is accepting applications for contracted nuisance alligator trappers in Duval County. Applications must be received by Friday, Dec. 15, 2017. Applicants must pass a criminal history check, have no fish or wildlife law violations, and...
President Trump Delays Decision on Elephant Trophy Hunting
Posted on: 11/21/17



Days after the Trump administration ignited a public uproar by moving to allow hunters to bring the remains of dead elephants "bagged" in Zambia and Zimbabwe back into the United States, President Trump unexpectedly changed his tune and vowed to review "the conservation facts" and provide a decision this week...
Utah DWR Recommends More Bear Permits
Posted on: 11/20/17


Black bears are doing extremely well in Utah: in less than 20 years, the number of bears has almost tripled. For that reason, biologists with the Division of Wildlife Resources want to give more hunters a chance to hunt black bears during the state's 2018 season...
USFWS Approves Elephant Trophy Imports from Zimbabwe & Zambia
Posted on: 11/16/17



The US Fish & Wildlife Service (FWS) announced that it has made a positive enhancement finding for import of elephant hunting trophies from both Zimbabwe and Zambia for 2016, 2017 and 2018. The decision on Zimbabwe elephant...
Apply for Alaska 2018 Big Game Draw Hunts by Dec 15
Posted on: 11/08/17



The application period for Alaska 2018 Draw hunts is November 1, 8am – December 15, 5pm (AKST). Species hunted are: mountain goat, bison,caribou, elk, black bear brown bear (including Kodiak brown bear), moose and muskox. Most drawing hunts are available to both residents and nonresidents. Non-residents in order to apply MUST...