 The country's premier hunting and fishing daily news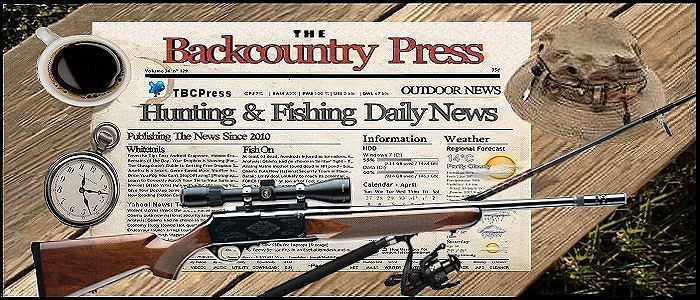 The Backcountry Outdoor News reports the latest hunting & fishing news along with fishing derbies & tournaments

          from:

--- Big Game Hunting News - Submitted by:  Backcountry Outdoor News

The latest news and information for big game hunting in your neck of the woods and beyond.  Includes: Alligator, Bear, Caribou, Moose, Mountain Lion, Muskox, Bighorn Sheep, Mountain Goat, Bison and Wolf

The latest news is listed first.

If you are looking for more news please visit our:
ARCHIVES

©  2010 Backcountry Press Outdoor News - All Rights Reserved                                

Disclaimer:  The views expressed on this site are that of the authors and not necessarily that of The Backcountry Press Outdoor News

BACKCOUNTRY  PRESS  is the country's premier daily hunting, fishing & outdoor news in the USA, Canada and more.  Read whats happening in your neck of the woods & beyond.

For those who provide updated information in the field of hunting & fishing, please don't hesitate to contact us to get your articles added to our site. 

Top Article
Why Africa Hunting is More Affordable than You Think


Many hunters dream of at least one wondrous hunting adventure. I know some long for the out West elk or mule deer hunt. Others dream of moose in Alaska or big horns in British Columbia. All true hunters think of Africa and a safari. Fortunately, it is affordable, epically challenging, and potentially life changing. Here's why...
Moose Hunting Tips & Techniques


Moose are the largest of the deer family with seven different sub-species recognized in the world, four of which inhabit North America. They are the Alaskan, Shiras, Canadian and Yukon moose. Generally speaking, an area which includes both young trees and swampy lakes would be considered prime moose country. Here are some good tips and techniques for hunting these big game trophies...


Alaska Confirms Respiratory Pathogen in Dall Sheep & Mountain Goats
Posted on: 03/19/18


A strain of bacteria known to cause pneumonia in Lower 48 bighorn sheep has been detected for the first time in Alaska Dall's sheep and mountain goats. The Dall's sheep testing positive for Movi were all in Game Management Unit 13A; all were taken by hunters and...
Utah Big Game Permit Proposals for 2018
Posted on: 03/19/18


Depending on which unit you applied for, you might have a better chance at drawing a permit to hunt big game in Utah this fall. Buck deer, buck pronghorn, bull moose and Rocky Mountain bighorn sheep are among the animals for which Division of Wildlife Resources biologists are recommending...
Vermont Holds Public Hearings on Moose and Deer
Posted on: 03/19/18


The Vermont Fish & Wildlife Department is holding three public hearings about Vermont's moose and deer in March, with two focused on deer later in May. The March 19, 21, and 22 hearings will include results of Vermont's 2017 deer and moose seasons as well as prospects for the fall. Included will be...
Washington's Wolf Population Increases for 9th Straight Year
Posted on: 03/19/18


Washington's wolf population continued to grow in 2017 for the ninth straight year, according to the results of an annual survey conducted by the Washington Department of Fish and Wildlife (WDFW). The state was home to at least 122 wolves, 22 packs, and 14 successful breeding pairs, based on...
Hawaii 2018 Goat Hunting to Open on Kaua'i
Posted on: 03/17/18



The Department of Land and Natural Resources is pleased to announce the opening of archery, muzzleloader, and regular rifle hunting seasons for feral goats on the island of Kaua'i. The following rules and conditions will be in effect for the hunt...
Nearly Three Quarters Of Maine Moose Hunters Successful In 2017
Posted on: 03/17/18



Despite warm spells during both the September and October moose seasons, 73% of all moose hunters harvested a moose last season. With 2,080 moose permits issued, 1,518 hunters were successful in getting their moose. Hunter success rates varied throughout different regions of the state with...
Apply for Hawaii 2018 Lana'i Mouflon Sheep Hunting Starting March 19
Posted on: 03/15/18



Applications for the 2018 Lana'i mouflon sheep hunting season, together with instruction sheets, will be available at all Department of Land and Natural Resource (DLNR) Division of Forestry and Wildlife offices statewide beginning Monday, March 19, 2018. Applicants may also apply online. Hunters should note that....
South Dakota Adds Additional Bighorn Sheep Hunting Unit
Posted on: 03/15/18


The South Dakota Game, Fish and Parks (GFP) Commission voted to create a new hunting unit for bighorn sheep. The unit will be the portion of Pennington county east of the Cheyenne River and the portion of Jackson county north of the White River, excluding Badlands National Park. The GFP Commission allocated...