The country's premier daily hunting, fishing & outdoor news in the USA, Canada and more.  Read whats happening in your neck of the woods & beyond.




The Backcountry Outdoor News reports the latest hunting and, fishing news along with fishing derbies and tournaments

         from:

---


Whether an event is for freshwater, saltwater, open water or ice fishing, they are listed in our directory. 






©  2010 Backcountry Press Outdoor News - All Rights Reserved                                                                                                                                            Website Design by:


Big Game Hunting News - Submitted by:  The Backcountry Press (TBC Press)

The latest news and information for big game hunting in your neck of the woods and beyond.  Includes: Alligator, Bear, Caribou, Moose, Mountain Lion, Muskox, Bighorn Sheep, Mountain Goat, Bison and Wolf.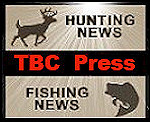 Search Our Site
Why Africa Hunting is More Affordable than You Think


Many hunters dream of at least one wondrous hunting adventure. I know some long for the out West elk or mule deer hunt. Others dream of moose in Alaska or big horns in British Columbia. All true hunters think of Africa and a safari. Fortunately, it is affordable, especially challenging, and potentially life changing. Here's why...
Moose Hunting Tips & Techniques


Moose are the largest of the deer family with seven different sub-species recognized in the world, four of which inhabit North America. They are the Alaskan, Shiras, Canadian and Yukon moose. Generally speaking, an area which includes both young trees and swampy lakes would be considered prime moose country. Here are some good tips and techniques for hunting these big game trophies...

  Trending Now                                                                                                            More News In Our Archives

Washington Approves Mountain Goat Management Plan for Olympic National Park
Posted on: 05/08/18



The National Park Service (NPS), the USDA Forest Service (USFS), and the Washington State Department of Fish and Wildlife (WDFW) have released the Mountain Goat Management Plan/Final Environmental Impact Statement (FEIS) for managing non-native mountain goats in the Olympic Mountains. The NPS preferred alternative involves...
Apply for Florida 2018 Alligator Hunt Permits Starting May 18
Posted on: 05/07/18



The Phase I application period for Florida 2018 Alligator Harvest random drawing begins May 18 at 10 a.m. and runs through May 28. More than 6,000 alligator harvest permits will be available. Hunters may submit their application for a permit that allows the harvest of...
Pennsylvania Sets 2018-19 Black Bear Hunting Seasons
Posted on: 05/03/18


The Pennsylvania Board of Game Commissioners recently gave final approval to black bear hunting seasons and bag limits for the 2018-19 license year. Hunting licenses for 2018-19 go on sale in mid-June and become effective July 1. The commission is implementing a new four-day extended black bear firearms season in WMUs 4A and 5A; and increasing...
Utah Approves Permit Numbers for 2018 Fall Hunts - More Permits Available
Posted on: 04/30/18


Depending on which unit you applied for, you might have a better chance at drawing a permit to hunt big game in Utah this fall. The Utah Wildlife Board approved permit numbers for this fall's hunts. Buck deer, buck pronghorn, bull moose and Rocky Mountain bighorn sheep are among the animals for which...
Vermont Allocates 13 Moose Hunting Permits for 2018
Posted on: 04/30/18



The Vermont Fish & Wildlife Board voted on April 25 to have 13 moose hunting permits awarded this year. By law, five permits will be available to Vermont military veterans and up to three permits will be available for...
Apply for Washington 2018 Big Game Special Hunt Permits by May 31
Posted on: 04/27/18



Hunters have through May 23 to apply for special hunting permits for fall deer, elk, mountain goat, moose, bighorn sheep, and turkey seasons in Washington. To apply for a special permit, hunters planning to hunt for deer or elk must purchase an application and hunting license for those species and...