 The country's premier hunting and fishing daily news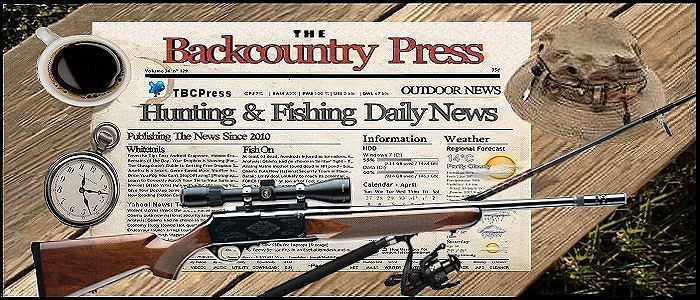 The Backcountry Outdoor News reports the latest hunting & fishing news along with fishing derbies & tournaments

          from:

--- Big Game Hunting News - Submitted by:  Backcountry Outdoor News

The latest news and information for big game hunting in your neck of the woods and beyond.  Includes: Alligator, Bear, Caribou, Moose, Mountain Lion, Muskox, Bighorn Sheep, Mountain Goat, Bison and Wolf

The latest news is listed first.

If you are looking for more news please visit our:
ARCHIVES

©  2010 Backcountry Press Outdoor News - All Rights Reserved                                

Disclaimer:  The views expressed on this site are that of the authors and not necessarily that of The Backcountry Press Outdoor News

BACKCOUNTRY  PRESS  is the country's premier daily hunting, fishing & outdoor news in the USA, Canada and more.  Read whats happening in your neck of the woods & beyond.

For those who provide updated information in the field of hunting & fishing, please don't hesitate to contact us to get your articles added to our site. 

Top Article
Why Africa Hunting is More Affordable than You Think


Many hunters dream of at least one wondrous hunting adventure. I know some long for the out West elk or mule deer hunt. Others dream of moose in Alaska or big horns in British Columbia. All true hunters think of Africa and a safari. Fortunately, it is affordable, epically challenging, and potentially life changing. Here's why...
Moose Hunting Tips & Techniques


Moose are the largest of the deer family with seven different sub-species recognized in the world, four of which inhabit North America. They are the Alaskan, Shiras, Canadian and Yukon moose. Generally speaking, an area which includes both young trees and swampy lakes would be considered prime moose country. Here are some good tips and techniques for hunting these big game trophies...


N.C. Approves Alligator Management Plan - 2018 Hunting Seasons to Follow
Posted on: 10/17/17



The N.C. Wildlife Resources Commission board recently approved the N.C. 2018 Alligator Management Plan. The plan, which was developed by the N.C. Alligator Task Force, will guide management of alligator populations in North Carolina. The plan outlines conditions under which alligators could be hunted in North Carolina. However...
Alaska 2017-18 Wolf Hunting Seasons and Quotas
Posted on: 10/13/17



Alaska game management unit (GMU) 2 wolf hunting season for federally qualified subsistence users on federal lands opened on Sept. 1 and the trapping season opens on Nov. 15, respectively. State wolf hunting and trapping seasons in GMU 2 opens on Dec. 1. The length of the state seasons will depend on...
Maine Hunters Advised how to Take Care Of Your Moose During Hunts
Posted on: 10/13/17



Temperatures at the start of the October Moose Hunt are predicted to be in the 70s, so moose hunters need to be prepared to process your moose quickly in order to take care of your moose meat. Warm weather affects your moose meat, so keep this in mind...
Big Time Texas Hunts Entry Deadline Oct 15
Posted on: 10/12/17



Hunters hoping for a chance at premium guided hunt packages through the Texas Parks and Wildlife Department's Big Time Texas Hunts program have until midnight Sunday, Oct. 15 to enter. That's the deadline for the opportunity to be selected for these top shelf hunting adventures. In addition..
B.C. Shuts Down Grizzly Bear Trophy Hunting Effective Nov 30, 2017
Posted on: 10/11/17


Trophy hunting for grizzly bears in British Columbia comes to an end effective November 30, 2017. Hunters will no longer be allowed to keep the hide, head or paws of any bear they kill. If you have a grizzly bear hunt booked in British Columbia for 2018 or beyond...
B.C. Hunting Closures will help Protect Moose in the Cariboo Region
Posted on: 10/11/17



Two areas of the Cariboo Region in British Columbia that were severely impacted by wildfires this summer will be closed to moose hunting for the October 15-31 and November 1-15 seasons. Zones A and C of management unit 5-13 in the Cariboo contain high quality moose habitat that was...
New Jersey 2017 Black Bear Season Underway
Posted on: 10/11/17


The fall black bear hunt – an integral part of the state's comprehensive policy to keep bear populations sustainable and enhance public safety – opened Monday, Oct. 9 and runs through Saturday, Oct. 14, in northwestern and west-central New Jersey. Segment A of the bear season allows archery-only hunting on Monday, Tuesday and Wednesday, followed by...
Maine 2017 Black Bear Hunting is Underway with a Long Season
Posted on: 09/21/17


The Maine 2017 black bear season is underway with one of the longest seasons in the country. Maine also has one of the largest bear population estimated at over 36,000 animals. Maine's bear season is divided into three segments, as hunters can hunt with bait from...
New Mexico Offers Several Over-the-Counter (OTC) Hunting Opportunities
Posted on: 09/20/17



New Mexico does offer several over the counter (OTC) hunting opportunities. The only OTC deer hunting is on private land. If you have access to private land and permision from the landowner, you can purchase your license from any license vendor. Although they are not truly OTC licenses, some elk and pronghorn permits can be obtained without having to draw. There is also a very unique opportunity to hunt Ibex with an...
New York 2017 Black Bear Hunting Season Underway
Posted on: 09/19/17


In southeastern New York, the early bear season runs from Sept. 9 to Sept. 24 in Wildlife Management Units (WMUs) 3A, 3C, 3H, 3J, 3K, 3M, 3P, 3R, 4P, and 4R. The early bowhunting season for bears opens in all of the Southern Zone on Oct. 1, followed by...
Oregon Adopts 2018 Big Game Regulations
Posted on: 09/18/17



The Oregon Fish and Wildlife Commission adopted 2018 Big Game Regulations when it met in Welches, Ore. There are a few changes including shifts in season dates. The Commission updated language to make it clearer that mechanical and moveable blades are not lawful to use for archery hunting. The big game changes included...