The country's premier daily hunting, fishing & outdoor news in the USA, Canada and more.  Read whats happening in your neck of the woods & beyond. Choose your language above and read our news in English, Deutsche, Espanol, Francese, Irish or Italiano




The Backcountry Outdoor News reports the latest hunting and, fishing news along with fishing derbies and tournaments

         from:

---


Whether an event is for freshwater, saltwater, open water or ice fishing, they are listed in our directory. 






©  2010 Backcountry Press Outdoor News - All Rights Reserved                                                                                                                                            Website Design by:


Big Game Hunting News - Submitted by:  The Backcountry Press (TBC Press)

The latest news and information for big game hunting in your neck of the woods and beyond.  Includes: Alligator, Bear, Caribou, Moose, Mountain Lion, Muskox, Bighorn Sheep, Mountain Goat, Bison and Wolf.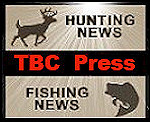 Why Africa Hunting is More Affordable than You Think


Many hunters dream of at least one wondrous hunting adventure. I know some long for the out West elk or mule deer hunt. Others dream of moose in Alaska or big horns in British Columbia. All true hunters think of Africa and a safari. Fortunately, it is affordable, especially challenging, and potentially life changing. Here's why...
Moose Hunting Tips & Techniques


Moose are the largest of the deer family with seven different sub-species recognized in the world, four of which inhabit North America. They are the Alaskan, Shiras, Canadian and Yukon moose. Generally speaking, an area which includes both young trees and swampy lakes would be considered prime moose country. Here are some good tips and techniques for hunting these big game trophies...

  Trending Now                                                                                                            More News In Our Archives

New Research Shows Wyoming Mountain Lion Population Down
Posted on: 07/11/18



Mankind has played an outsized role in driving down Jackson Hole's mountain lion population in Wyoming, even without a concerted effort to cut back numbers of the large cats, new research says. The mid-1990s reintroduction of wolves to the Greater Yellowstone Ecosystem, lion hunting and the redistribution and reduction of the Jackson Elk Herd were the primary factors affecting lion survival over a...
Oregon is 3rd State to Join Coalition Encouraging Hunters to Choose Non-Lead Ammo
Posted on: 07/10/18



Three state wildlife agencies — the Arizona Game and Fish Department, Utah Division of Wildlife Resources, and Oregon Department of Fish and Wildlife — have recently joined The North American Non-Lead Partnership, and at least five sports groups have pledged their support. The North American Non-Lead Partnership works to engage hunters and other wildlife enthusiasts by...
One Hundred Vermont Hunters Failed to Meet New Bear Tooth Rule Requirements
Posted on: 07/09/18


A new rule passed in 2017 by the Vermont Fish and Wildlife Board requires hunters to collect and submit a pre-molar bear tooth within 48 hours of shooting a bear. The submission must be to a game warden or other department official. This year, 100 hunters failed to meet the new requirements...
Apply for Wyoming 2018 Resident and Non-Resident Preference Points by Oct 31
Posted on: 07/06/18



Wyoming is accepting applications for 2018 Resident and Non-Resident Preference Points July 2 to Oct 31. Applications for residents and non-residents are available online. Wyoming 2018 Preference points can be purchased for resident and nonresident moose and bighorn sheep and nonresident elk, deer and antelope. In addition...
Apply for Wyoming 2018 Limited-Quota Grizzly Bear Hunt by July 16
Posted on: 07/06/18


Wyoming is accepting applications for 2018 limited-quota grizzly bear hunts July 2 to July 16. Applications for residents and non-residents are available online. The hunt's rules will allow up to 22 grizzlies to be killed in a wide area east and south of...
Nebraska Approves Mountain Lion Hunting Season for 2019
Posted on: 06/25/18



The Nebraska Game and Parks Commission approved a mountain lion hunting season for 2019 at its meeting June 22 in Ogallala. The season will provide a harvest opportunity for up to eight mountain lions in two sub-units within the Pine Ridge of northwestern Nebraska. The season will allow...