 The country's premier hunting and fishing daily news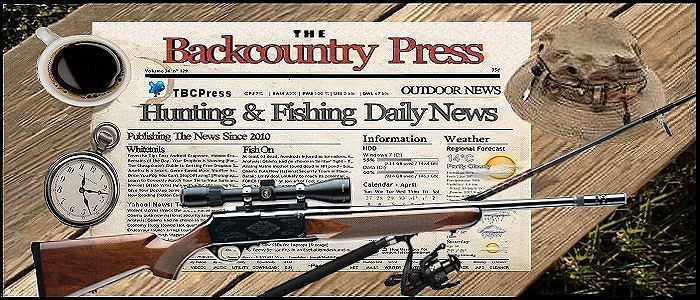 The Backcountry Outdoor News reports the latest hunting & fishing news along with fishing derbies & tournaments

          from:

--- Deer & Elk Hunting News - Submitted by:  Backcountry Outdoor News

The latest news and information for antelope, deer and elk hunting in your neck of the woods and beyond.

The latest news is listed first.

If you are looking for more news please visit our:
ARCHIVES

©  2010 Backcountry Press Outdoor News - All Rights Reserved                                

Disclaimer:  The views expressed on this site are that of the authors and not necessarily that of The Backcountry Press Outdoor News

BACKCOUNTRY  PRESS  is the country's premier daily hunting, fishing & outdoor news in the USA, Canada and more.  Read whats happening in your neck of the woods & beyond.

For those who provide updated information in the field of hunting & fishing, please don't hesitate to contact us to get your articles added to our site. 

Top Article
Tips for Tagging a Late-Season Whitetail

Deer season is still going strong throughout much of North America, and if you still have an open tag, it's time to get off the couch and into a treestand or ground blind. Under certain conditions, the late season can be your best chance at a mature buck — provided you keep in mind the three tips...
Deer Hunting Mistakes Guaranteed to Ruin the Rut

The rut is the Super Bowl of whitetail hunting. Bucks that typically behave like ghosts are suddenly vulnerable, and your chances of tagging a wall-hanger are at their highest. But whitetails are still whitetails—always cautious and rarely pushovers. So there are plenty of ways you can go wrong. Here are 15 ways you can turn the annual breeding season into a surefire flop...


Missouri Sets 2018 -19 Deer Hunting Dates
Posted on: 12/18/17


The Missouri Conservation Commission approved recommendations by the Missouri Department of Conservation (MDC) for 2018-2019 deer-hunting season dates. Archery Season: Sept. 15 through Nov. 9 and Nov. 21 through Jan. 15, 2019. Details on hunting regulations, harvest limits, allowed methods, required permits, and other related information will be available online. The 2018 – 2019 firearms deer hunting dates are...
Kentucky Proposes New Hunting Regulations for 2018-19
Posted on: 12/13/17



The Kentucky Fish and Wildlife Commission proposed several new deer, elk and small game hunting regulations at its quarterly meeting Dec 8. Quota hunt applications will become online only. Applications by phone will be phased out after June 2018. In elk and deer-related business...
Time is Now to Bag Louisiana Big Bucks in the Bayou State
Posted on: 12/13/17



Deer season in Louisiana is in full swing — and now is the time to load up the freezer. There are stories of a few nice bow kills in Port Hudson and other areas, so it's apparent the 2017 season might be a good one. It would make sense that there are record-class bucks on the landscape now through January because....
Arkansas Confirms 70 New Cases of CWD - No New Counties Affected
Posted on: 12/12/17


Seventy new cases of chronic wasting disease have been found in Arkansas since deer season opened in September. Although the number of positive cases is high, no samples from new areas of the state have been found so far. The disease has been found in...
Boundaries & Rules Set for Minnesota Late Season Deer Hunt in CWD Zone
Posted on: 12/12/17


Boundaries for a special late-season deer hunt to help control chronic wasting disease in southeastern Minnesota's Fillmore County have been expanded to include portions of three surrounding deer permit areas, the DNR said. The expansion of boundaries for the nine-day hunt that lasts from Saturday, Jan. 6, to Sunday, Jan. 14, became necessary when...
Tentative 2018 North Dakota Hunting Season Opening Dates
Posted on: 12/11/17



To help North Dakota hunters prepare for hunting seasons in 2018, the North Dakota Game and Fish Department annually provides its best estimate for opening dates for the coming year. Tentative opening dates for 2018 include...
North Carolina Seeks Input on Changes to Deer, Bear Hunting
Posted on: 12/08/17



The N.C. Wildlife Resources Commission has opened the public comment period for proposed changes to agency regulations related to wildlife management, inland fisheries and game lands for the 2018-19 seasons. The changes that would affect High Country hunters would be regarding deer and bear hunting season...