The country's premier daily hunting, fishing & outdoor news in the USA, Canada and more.  Read whats happening in your neck of the woods & beyond. Choose your language above and read our news in English, Deutsche, Espanol, Francese, Irish or Italiano




The Backcountry Outdoor News reports the latest hunting and, fishing news along with fishing derbies and tournaments

         from:

---


Whether an event is for freshwater, saltwater, open water or ice fishing, they are listed in our directory. 






©  2010 Backcountry Press Outdoor News - All Rights Reserved                                                                                                                                            Website Design by:


Deer, Elk & Antelope Hunting News - Submitted by:  The Backcountry Press (TBC Press)

The latest news and information for antelope, deer and elk hunting in your neck of the woods and beyond.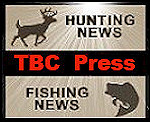 Tips for Tagging a Late-Season Whitetail

Deer season is still going strong throughout much of North America, and if you still have an open tag, it's time to get off the couch and into a treestand or ground blind. Under certain conditions, the late season can be your best chance at a mature buck — provided you keep in mind the three tips...
Deer Hunting Mistakes Guaranteed to Ruin the Rut

The rut is the Super Bowl of whitetail hunting. Bucks that typically behave like ghosts are suddenly vulnerable, and your chances of tagging a wall-hanger are at their highest. But whitetails are still whitetails—always cautious and rarely pushovers. So there are plenty of ways you can go wrong. Here are 15 ways you can turn the annual breeding season into a surefire flop...

  Trending Now                                                                                                            More News In Our Archives

Apply for California Apprentice Deer Hunt in San Luis Obispo County by Aug 20
Posted on: 07/11/18


The California Department of Fish and Wildlife (CDFW) is offering a drawing for an apprentice deer hunt for junior license holders on the Chimineas Unit of the Carrizo Plains Ecological Reserve. The application deadline is Monday, Aug. 20. Three apprentice junior hunters will be chosen by lottery. Selected junior license holders must possess...
Youth can Hunt Deer with Adult Mentors during Minnesota Special Hunts
Posted on: 07/10/18



Youth can apply to hunt deer in select state parks and other refuge areas during 17 special deer hunts in October and November, according to the Minnesota Department of Natural Resources. Youth can apply now through Friday, Aug. 17, to apply for the hunts. Of the 17 special hunts, 15 are...
Oregon is 3rd State to Join Coalition Encouraging Hunters to Choose Non-Lead Ammo
Posted on: 07/10/18



Three state wildlife agencies — the Arizona Game and Fish Department, Utah Division of Wildlife Resources, and Oregon Department of Fish and Wildlife — have recently joined The North American Non-Lead Partnership, and at least five sports groups have pledged their support. The North American Non-Lead Partnership works to engage hunters and other wildlife enthusiasts by...
Big Bore Air Rifles Legal for 2018 Modern Gun Deer Season in Arkansas
Posted on: 07/09/18



Deer hunters will be able to pursue their game with one more option this season, thanks to a recent regulation change by the Arkansas Game and Fish Commission. Commissioners voted to legalize large-caliber air rifles that meet certain standards for deer hunting during modern gun season. To be legal for deer hunting in Arkansas, an air rifle must...
Missouri Supreme Court Rejects Captive Deer Hunts
Posted on: 07/09/18


Missouri's highest court has ruled the state has a right to regulate deer hunting companies to control a deadly brain disease affecting the animals. The Supreme Court's ruling reversed a lower court ruling that favored the hunting preserves. The recent ruling involved owners of hunting preserves who ...
Apply for Mississippi 2018 Deer Hunting Permits Starting Aug 1st
Posted on: 07/07/18


Beginning August 1, the Mississippi Department of Wildlife, Fisheries, and Parks (MDWFP) will accept draw permit applications for deer through August 30. Applicants must apply online and have a valid Mississippi hunting license before applying for a WMA draw hunt. The 2018 deer season is as follows......
Georgia Deer Baiting Changes
Posted on: 07/06/18



The Georgia Board of Natural Resources recently approved a measure allowing hunters on private lands across the state to hunt as close as they would like to supplemental feed. This change, in effect for the 2018–19 deer hunting season, remedies an existing disparity among...
Massachusetts MassWildlife Proposes Extended Archery Season
Posted on: 07/06/18


MassWildlife filed a regulatory amendment that would extend the archery deer season by two weeks (opening the first Saturday after Thanksgiving) in eastern Massachusetts (zones 10-14). Currently, the regulation change is...
Apply for the Massachusetts 2018 Quabbin Deer Hunt by Aug 31
Posted on: 07/06/18


Massachusetts is accepting applications for the 2018 Quabbin Deer Hunt. Applications are available online between July 1 and August 31. There is no application fee. All applications must be submitted online. In addition...
Wyoming Implements New Regulation to Help Combat CWD
Posted on: 07/06/18


The Wyoming Game and Fish Department has a new tool it can use to help measure any future efforts to try and manage chronic wasting disease. The new regulation allows Game and Fish to mandate that harvested deer, elk and moose in certain hunt areas be tested for CWD. However...
Apply for Wyoming 2018 Resident and Non-Resident Preference Points by Oct 31
Posted on: 07/06/18



Wyoming is accepting applications for 2018 Resident and Non-Resident Preference Points July 2 to Oct 31. Applications for residents and non-residents are available online. Wyoming 2018 Preference points can be purchased for resident and nonresident moose and bighorn sheep and nonresident elk, deer and antelope. In addition...