 The country's premier hunting and fishing daily news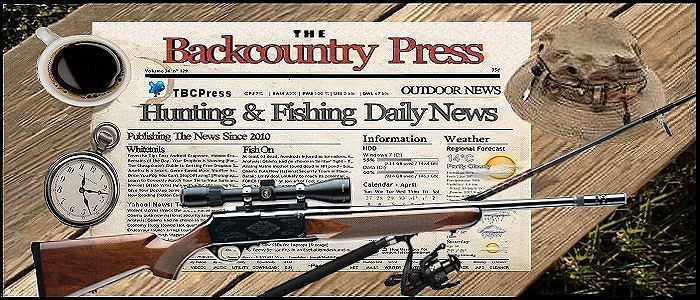 The Backcountry Outdoor News reports the latest hunting & fishing news along with fishing derbies & tournaments

          from:

--- Deer & Elk Hunting News - Submitted by:  Backcountry Outdoor News

The latest news and information for antelope, deer and elk hunting in your neck of the woods and beyond.

The latest news is listed first.

If you are looking for more news please visit our:
ARCHIVES

©  2010 Backcountry Press Outdoor News - All Rights Reserved                                

Disclaimer:  The views expressed on this site are that of the authors and not necessarily that of The Backcountry Press Outdoor News

BACKCOUNTRY  PRESS  is the country's premier daily hunting, fishing & outdoor news in the USA, Canada and more.  Read whats happening in your neck of the woods & beyond.

For those who provide updated information in the field of hunting & fishing, please don't hesitate to contact us to get your articles added to our site. 

Top Article
Tips for Tagging a Late-Season Whitetail

Deer season is still going strong throughout much of North America, and if you still have an open tag, it's time to get off the couch and into a treestand or ground blind. Under certain conditions, the late season can be your best chance at a mature buck — provided you keep in mind the three tips...
Deer Hunting Mistakes Guaranteed to Ruin the Rut

The rut is the Super Bowl of whitetail hunting. Bucks that typically behave like ghosts are suddenly vulnerable, and your chances of tagging a wall-hanger are at their highest. But whitetails are still whitetails—always cautious and rarely pushovers. So there are plenty of ways you can go wrong. Here are 15 ways you can turn the annual breeding season into a surefire flop...


New Hampshire Seeks Input on 2018 Hunting & Trapping Season Rule Proposals
Posted on: 03/20/18



The New Hampshire Fish and Game Department will hold three public hearings on the 2018 hunting and trapping season rule proposals. Following are selected dates for hearings and highlights of the proposed 2018 wildlife rule package being put forth by NH Fish and Game; please note that it is a synopsis and is not all-inclusive...
Utah Big Game Permit Proposals for 2018
Posted on: 03/19/18


Depending on which unit you applied for, you might have a better chance at drawing a permit to hunt big game in Utah this fall. Buck deer, buck pronghorn, bull moose and Rocky Mountain bighorn sheep are among the animals for which Division of Wildlife Resources biologists are recommending...
Vermont Holds Public Hearings on Moose and Deer
Posted on: 03/19/18


The Vermont Fish & Wildlife Department is holding three public hearings about Vermont's moose and deer in March, with two focused on deer later in May. The March 19, 21, and 22 hearings will include results of Vermont's 2017 deer and moose seasons as well as prospects for the fall. Included will be...
Interest in Wyoming Elk Hunting Continues to Increase
Posted on: 03/19/18


A Wyoming elk hunt remains one of the most sought-after opportunities in the West, and the Wyoming Game and Fish Department saw another increase in non-resident applications for the 2018 season. There is one last chance for non-resident elk hunters to pick up a license. After the resident draw is complete, the remaining licenses will be offered through a random leftover draw that both residents and non-residents can...
Apply for Illinois Archery Deer Hunting at Beaver Dam/Horseshoe Lake by March 30
Posted on: 03/17/18


Illinois archery deer hunting applications are available through March 30 for the special drawings at Beaver Dam State Park, Carlinville, and through March 31 for the special drawings at Horseshoe Lake State Park, Granite City for the 2018-19 Illinois Archery Deer Hunting Season. Hunters can obtain an application either online or
Wisconsin to Have First Managed Elk Hunt - Apply Starting May 1st
Posted on: 03/16/18


Following more than 22 years of elk management and reintroduction efforts, 2018 will mark Wisconsin's first managed elk hunt in state history. Interested hunters can apply, however, only Wisconsin residents are eligible to purchase an elk tag. The application fee is $10 and applications will be available starting May 1. The area of the planned hunt is...
South Dakota 2018-19 Archery Elk Hunting Seasons Proposed
Posted on: 03/15/18


The South Dakota Game, Fish and Parks (GFP) Commission proposed to allocate 222 licenses for the 2018 and 2019 archery elk hunting seasons. The proposed season would run the month of September for both years and would have 142 any elk and 80 antlerless elk licenses available. The GFP Commission will consider adopting this proposal on
Virginia 2017-18 Bear, Deer, Turkey, Harvest Data Announced
Posted on: 02/26/18


Wildlife biologists with the Virginia Department of Game and Inland Fisheries (DGIF) have compiled the preliminary figures for the 2017-18 fall/winter hunting season. The Virginia bear and deer harvests reflected an increase from last year and the black bear harvest was...