 The country's premier hunting and fishing daily news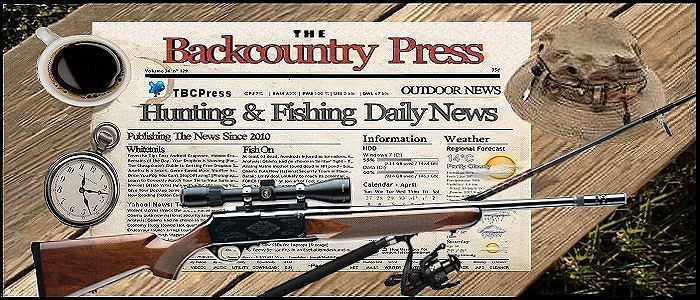 The Backcountry Outdoor News reports the latest hunting & fishing news along with fishing derbies & tournaments

          from:

---

©  2010 Backcountry Press Outdoor News - All Rights Reserved                                

BACKCOUNTRY  PRESS  is the country's premier daily hunting, fishing & outdoor news in the USA, Canada and more.  Read whats happening in your neck of the woods & beyond.

For those who provide updated
information in the field of hunting & fishing
, please don't hesitate to
contact us
to get
your articles added to our site. 



Alabama 2017-18 Big Buck Photo Contest Opens Along with Deer Season
Posted on: 10/16/17


The Alabama Black Belt Adventures Association is hosting its sixth Big Buck Photo Contest for deer hunters in Alabama's Black Belt region. The Big Buck photo contest will run from the start of the archery deer season on Oct. 14, 2017 until February 14, 2018. The winner is based on...
Delaware 2017-18 Youth Hunting Days for Waterfowl & Deer
Posted on: 10/16/17



DNREC has designated three upcoming Saturdays as youth hunting days on both public and private lands statewide. Youth waterfowl hunting days for youth hunters ages 10 through 15 will be Oct. 21 and Feb. 10, 2018. Delaware's annual deer hunting day for youth hunters, as well as for non-ambulatory disabled hunters, will be...
Indiana Deer Hunting with a Rifle is Now Illegal on Public Land
Posted on: 10/16/17



The Indiana Department of Natural Resources is trying to quickly spread the word that hunting deer with a rifle is now illegal on public land. The "firearms deer season" starts Nov. 18. "What people need to bear in mind is that those center-fire rifles are only legal for use on...
Minnesota 2017 Deer Hunts will Take Place at Several State Parks
Posted on: 10/16/17


Special hunts to prevent overpopulation of deer and protect resources will take place this fall at several Minnesota state parks. Access to the parks will vary during these hunts. Some parks will remain open to all visitors, some will have...
S.C. 2017 Bull's Island Archery Hunts Fact Sheet
Posted on: 10/16/17



Bull's Island is accessible only by boat, so hunters must bring everything they need for the hunt. Water and restroom facilities are the only amenities on the island. But that doesn't mean you can't enjoy some creature comforts. Shan Burkhalter give you some information for hunting on this island. This year's hunts will be held...
60-Year-Old Alligator Gar New Texas Brazos River Record
Posted on: 10/16/17


Texas Parks and Wildlife Department research biologists have confirmed the new alligator gar bow fishing water body record for the Brazos River is 60-years-old, among the oldest fish aged and documented by the department. Angler Isaac Avery of Longview caught the 197 pound, 7.39 foot alligator gar bow fishing on...
Alaska 2017-18 Wolf Hunting Seasons and Quotas
Posted on: 10/13/17



Alaska game management unit (GMU) 2 wolf hunting season for federally qualified subsistence users on federal lands opened on Sept. 1 and the trapping season opens on Nov. 15, respectively. State wolf hunting and trapping seasons in GMU 2 opens on Dec. 1. The length of the state seasons will depend on...
Georgia Firearms Deer Hunting Season Opens Oct 21
Posted on: 10/13/17


Georgia firearms deer hunters can take to the woods beginning Sat., Oct. 21 and continue through Jan. 14, 2018 statewide. Hunters can check out the interactive map created to see the opportunities available for the counties they hunt. If you hunt on National Forest land, either-sex days may be...