The country's premier daily HUNTING, FISHING & OUTDOOR news in the USA and around the globe.  Read whats happening in your neck of the woods & beyond. 

Disclaimer:  The views expressed on this site are that of the authors and not necessarily that of TBC Press

---
©  2020  TBC Press - All Rights Reserved                                                                                                                                                                                            Website Design by: 


---
Sorry, we're unable to load this blog.
Hunter Education and Safety Programs


ATTENTION ALL HUNTERS...It's that time again and most states have started their mandatory Hunter Education Programs and / or their Safety Education Programs for the 2022 season. Classes are held in several areas and dates throughout your state.Click on the state you want and scroll down to Hunter Education. All hunters must attend or have attended these programs in order to hunt this spring and/or fall...
ATTENTION ANGLERS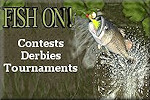 The Backcountry Press has one of the largest USA fishing tournament directories in the country. Whether an event is for freshwater, saltwater, open water or ice fishing, they are listed in our directory. The 2022 fishing venues are starting to come in.

If you want a challenge check out our USA Fishing Tournaments Directory. If you have a tournament you would like added to our directory just contact us. ITS FREE !