FOR THE GOOD OF ALL

Our country is still battling COVID-19. States are doing their best to keep parks, fishing, hunting and other outdoor actitivies open to the public, HOWEVER it is YOU that must follow the guidelines set by nps.gov. These guidelines include; social distancing, the Leave No Trace principles, including pack-in and pack-out, to keep outdoor spaces safe and healthy. These guidelines are also good to practice even after the threat of COVID-19 is gone.
ATTENTION ANGLERS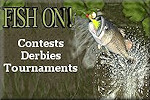 The Backcountry Press has one of the largest USA fishing tournament directories in the country. Whether an event is for freshwater, saltwater, open water or ice fishing, they are listed in our directory. The 2021 fishing venues are trickling in.

If you want a challenge check out our USA Fishing Tournaments Directory. If you have a tournament you would like added to our directory just contact us. ITS FREE !
Florida 2021 Lionfish Festival May 15-16 in Destin
Posted by TBC Press on: 01/08/21

The Florida FWC)is excited to announce the 7th annual Lionfish Removal and Awareness Festival May 15 and 16 at AJ's Seafood and Oyster Bar and HarborWalk Village in Destin. Come out and celebrate the fight against invasive lionfish with the FWC and Destin–Fort Walton Beach. Do you harvest lionfish? Register for the Emerald Coast Open lionfish tournament. Interested in having a booth at the event? Apply today. Activities will include...
Maryland Angler Catches Record Flathead Catfish
Posted by TBC Press on: 01/08/21



A Cecil County resident has officially been recognized by the Maryland DNR as the first-ever state record holder for the invasive flathead catfish. Joshua Dixon caught the 57-pound, 50-inch long flathead catfish (Pylodictis olivaris) on Dec. 27, 2020 fishing near the Lapidum Boat Ramp on the Susquehanna River. The 34-year-old angler was fishing from...
Idaho Anglers Reminded of Special Fishing Regulations on the Snake River
Posted by TBC Press on: 01/04/21

The tailrace fishery on the Snake River downstream of American Falls Dam to Eagle Rock has really grown in popularity over the past decade. This winter has been no exception, with recent angler effort being fairly high. Along with that, Idaho Fish and Game has documented an unusually high rate of non-compliance with the winter fishing regulations. In fact, Conservation Officers have detected several hundred angling-related violations over...
Texas Toyota ShareLunker Program Launches 35th Season
Posted by TBC Press on: 01/04/21

January signals the beginning of the 35th season of the Texas Toyota Sharelunker program. The year-round Toyota Sharelunker program offers four levels of participation for catching bass over 8 pounds or 24 inches in Texas. During the first three months of the season (Jan. 1 through March 31), anglers who reel in a 13+ pound bass can loan it to the TPWD for the ShareLunker selective breeding and stocking program. Anglers who catch and...
New California Recreational Groundfish Regulations For 2021
Posted by TBC Press on: 12/31/20

The California (CDFW) announces that multiple changes to the recreational groundfish regulations will take effect in the new year. CDFW worked closely with recreational stakeholders to develop the following changes, effective January 1, 2021. See CDFW's summary of recreational groundfish regulations for Management Area boundary definitions..
Florida Seasonal Spotted Seatrout in Central East Zone Reopens Jan 1, 2021
Posted by TBC Press on: 12/30/20

Spotted seatrout will reopen to Florida recreational harvest Jan. 1 in the central east seatrout management zone, which includes all state and federal waters from Palm Beach through Volusia counties. Spotted seatrout, as well as red drum and snook, also remain catch-and-release only in southwest Florida through May 31, 2021, in waters from the Hernando/Pasco county line south through Gordon Pass in Collier County...
New Florida Hook & Blueline Tilefish Regulations in Atlantic State Waters Start Jan 1, 2021
Posted by TBC Press on: 12/30/20

Starting Jan. 1, 2021, Florida anglers using hook-and-line with natural bait to target reef fish like snapper or grouper from a vessel in Atlantic state waters will be required to use non-stainless steel, non-offset circle hooks north of 28 degrees north latitude (near Melbourne) and non-stainless steel hooks south of 28 degrees north latitude. Also Starting Jan. 1, the following regulations will go into effect for recreational harvest of blueline tilefish in Atlantic state waters (including Monroe County)...
Early Ice Fishing Walleye Tactics That Will Put You on the Bite
Posted by TBC Press on: 12/30/20
It's hard to believe in late December we are still talking early ice, but in the Midwest unseasonable warmer temperatures have kept water open. Northern Minnesota and North Dakota, however, are experiencing some excellent early ice walleye fishing and the remainder of the Midwest shouldn't be too far behind, so get those batteries charged and hooks sharpened because ice fishing season is coming. Here are 10 tips that will help you land more walleyes as lakes begin to freeze...