The country's premier daily FISHING & OUTDOOR news in the USA and around the globe.  Read whats happening in your neck of the woods & beyond. 

Disclaimer:  The views expressed on this site are that of the authors and not necessarily that of TBC Press

---
©  2020  TBC Press - All Rights Reserved                                                                                                                                                                                            Website Design by: 


New CT Inland Fishing Rules Take Effect to Expand Opportunities
Posted by TBC Press on: 07/06/21

The Connecticut Department of Energy and Environmental Protection (DEEP) announces new inland fishing regulations effective immediately that are intended to enhance existing and provide new fishing opportunities. The new regulations were initiated by DEEP in 2019 with a Notice of Intent issued November 12, 2020, followed by a public hearing and comment period concluding December 15, 2020. The following are highlights of some of the new regulations...
ODFW Enacts Emergency Fishing Regulations Due to Drought
Posted by TBC Press on: 07/06/21

ODFW is implementing emergency regulations that began July 1 in several angling zones as Oregon faces a severe drought this summer, putting the state's salmon, steelhead, trout and sturgeon at risk. As always, the latest regulations are listed at the top of the Recreation Report – Fishing Report for each zone. Always check your angling zone before you go fishing. These emergency regulations are in effect until Sept. 30, 2021 but...
Wyoming Anglers Asked to Report Tagged Trout in North Fork & Buffalo Bill Reservoir
Posted by TBC Press on: 07/06/21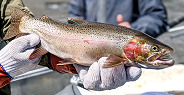 The Wyoming Game and Fish Department is asking anglers to report any tagged trout they catch in the North Fork of the Shoshone River and the Buffalo Bill Reservoir west of Cody. Game and Fish personnel recently captured, tagged and released trout in those areas in an effort to better understand the species' seasonal distribution and to help generate an estimate of angler catch and...
Florida 2021 Bay Scallop Season Opens between the Fenholloway & Suwannee Rivers
Posted by TBC Press on: 06/17/21

The Florida 2021 recreational bay scallop season from the Fenholloway River through the Suwannee River opened June 15 and will remain open through Labor Day (Sept. 6, 2021). This includes all state waters in Dixie County and a portion of Taylor County and includes the towns of Keaton Beach and Steinhatchee. The daily bag limit from June 15-30 in this area is one gallon of whole bay scallops in the shell or one cup shucked per person with a maximum of...
Iowa Relaxes Fishing Regulations at Otter Creek Lake in Tama County
Posted by TBC Press on: 06/17/21

The Iowa Department of Natural Resources (DNR) as of June15 relaxed the fishing regulations at Otter Creek Lake, near Tama to allow anglers to more freely harvest fish before the lake is dewatered this fall for a planned lake restoration project. The fish population will be renovated to remove common carp and yellow bass from the lake. Anglers with a valid sport fishing license may harvest all sizes and unlimited quantities of any species of fish from Otter Creek Lake. Anglers must...
Oregon 2021 Razor Clam Harvesting Open on Central Coast
Posted by TBC Press on: 06/15/21

The Oregon Department of Agriculture (ODA) and the ODFW announce the opening of all razor clam harvesting on the central Oregon coast. Razor clamming is now open from Cape Lookout (just south of Netarts Bay) south to the California border. Recent shellfish samples taken from this area indicate levels of the marine biotoxin domoic acid have fallen below the alert level. Razor clamming remains closed from Cape Lookout north to the Columbia River including...
DNREC Issuing Off-Peak Surf Fishing Permits
Posted by TBC Press on: 06/01/21

The Delaware Department of Natural Resources and Environmental Control recently launched an off-peak surf fishing permit pilot program. The off-peak permits will allow anglers to drive-on surf fish during times when Delaware State Park beaches are not at capacity. To purchase an off-peak surf fishing permit, visit any park office within Delaware State Parks. There is no cap on the number of off-peak surf fishing permits to be issued. Online sales of these permits will be...