Welcome To Turkey Hunting

The latest news and information for turkey hunting hunting in your neck of the woods and beyond.

---
©  2020  TBC Press - All Rights Reserved                                                                                                                                                                                            Website Design by: 


Includes: The six types of wild turkeys: Eastern wild turkey, Osceola wild turkey, Gould's wild turkey, Merriam's wild turkey, Rio Grande wild turkey, and the Ocellated wild turkey.

  Trending Now                                                                                                            More News In Our Archives

Accomplishing the Turkey Grand Slam on a Budget
Posted by TBC Press on: 03/02/21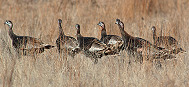 The National Wild Turkey Federation recognizes six different slams for wild turkeys, the most popular being the Grand Slam. To achieve a Grand Slam, a hunter must harvest the four most common subspecies of the American wild turkey (the Eastern, Merriam's, Rio Grande and Osceola). Jeff Budz of Florida has completed a Super Slam -- killing a wild turkey in each of the 49 states. He also has more Grand Slams than anyone else. Budz isn't rich and believes everyone should take the time to get a Grand Slam, without going broke in the process. He shares his insight on how to accomplish this realistic goal...
Reminder: CDFW Deadline to Apply for the 2021 Big Game Drawing is June 2
Posted by TBC Press on: 05/11/21

California hunters can now purchase hunting licenses for the 2020-21 season, as well as apply for the Big Game Drawing online. Californians have many options to harvest wild protein, and at this time, the current COVID-19 pandemic is not expected to lead to the closure or delay of any hunting seasons. The deadline to apply for the Big Game Drawing is June 2, 2021 at 11:59 p.m. The 2020 California Big Game Hunting Digest, which includes information about...
Apply for Idaho 2021 Big Game Controlled Hunts by June 5
Posted by TBC Press on: 05/11/21

The application period for Idaho fall 2021 deer, elk, pronghorn antelope, fall black bear and fall turkey controlled hunts begins May 1 and runs through June 5. Hunters with a valid 2021 Idaho hunting license may apply for controlled hunts at any license vendor, Fish and Game office, or with a credit card online or by calling 1-800-554-8685. There is an additional fee for online and phone orders. Successful controlled hunt applicants will be notified by July 10. Controlled hunts are...
West Virginia 2021 Spring Turkey Season Extended to May 23
Posted by TBC Press on: 05/06/21

West Virginia's spring gobbler season is underway and turkey hunters have even more opportunities to bag a bird this year. Our spring gobbler season includes eight extra days (to May 23) this year, so hunters have even more chances to have a successful season, said Mike Peters, wild turkey and migratory game bird project leader for the West Virginia DNR. All hunters 15 and older must purchase a West Virginia hunting license and...
Nevada Hunters Have Until May 2 to Bag a Spring Gobbler
Posted by TBC Press on: 04/23/21

Nevada 2021 Spring turkey season is underway. Limit: One bearded wild turkey. Hunting Hours: One half hour before sunrise to sunset. Hunters have until May 2 to bag a spring gobbler in the following Units...
Ohio 2021 General Spring Turkey Season Opens April 24 in the South Zone -- Youth April 17-18
Posted by TBC Press on: 04/12/21

This spring, Ohio offers multiple opportunities for wild turkey hunters to enjoy a close encounter with this popular game bird, according to the Ohio ODNR. Ohio's 2021 youth wild turkey hunting season is Saturday, April 17, and Sunday, April 18. Following the youth season, Ohio is divided into two zones for the remainder of spring hunting: a south zone, which opens to hunters on Saturday, April 24, and a northeast zone, which opens to hunters on Saturday, May 1. In addition...
New 2021 Five-Week Turkey Season Opens in West Virginia April 19
Posted by TBC Press on: 04/12/21

Beginning this year, West Virginia's statewide spring gobbler season will run for five weeks instead of four, officials said. The 2021 season opens Monday, April 19. The season still opens the third Monday in April but now ends May 23, eight days later than last year. Hunters can harvest one bearded bird per day with a season bag limit of two. The two-day youth spring gobbler season will be held April 17-18, the Saturday and Sunday before the regular season. In Addition...
Oregon Turkey Hunt by Reservation Program Returns for Second Year
Posted by TBC Press on: 04/09/21

An Oregon program launched last year to help turkey hunters reserve a hunt on private land in western Oregon (Willamette Valley and Roseburg) is back up and running for the 2021 season. There is no cost to reserve a hunt, but hunters must purchase a 2021 hunting license and turkey tag prior to their hunt and follow all hunting regulations and program rules. Up to three hunters can hunt per reservation - individual hunters can reserve a hunt and then...