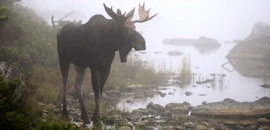 The country's premier hunting and fishing daily news





The Backcountry Outdoor News reports the latest hunting & fishing news along with fishing derbies & tournaments                  from:

--- ©  2010 Backcountry Press Outdoor News - All Rights Reserved                                       

Disclaimer:  The views expressed on this site are that of the authors and not necessarily that of The Backcountry Press Outdoor News



British Columbia Online Services Expanded for Guide/Outfitters

Submitted by:  Backcountry Press Outdoor News

Posted on: 04/13/18



Starting today, guide/outfitters in British Columbia can now conduct many hunting business transactions online through one electronic system. With the expansion of BC Hunting Online to licensing for non-residents, guide outfitters can now:

Buy hunting and species licences on behalf of their clients.

Register for a fish and wildlife ID on behalf of their clients.

Obtain a new fish and wildlife ID linked to an individual profile that includes the guide/outfitter licence information.

Guide/outfitters will also now be able to use BC Hunting Online to submit new and renewal guide-outfitter licence applications (1-year and 5-year).

Guide-outfitter licence applications will continue to be processed at FrontCounter BC locations. In addition, guide outfitters can register and buy licences on behalf of clients at Service BC or FrontCounter BC locations. FrontCounter BC offices will begin selling non-resident and non-resident-alien hunting and species licences starting May 1, 2018.

A basic or personal BCeID is needed to access BC Hunting Online. Species licences bought online will be mailed. Guide/outfitters and hunters should allow approximately three weeks before their hunt to receive their licence. Service BC, FrontCounter BC, and participating hunting and sporting goods stores sell licences over the counter if hunters need species

licences right away.

Non-resident licences, and permits to accompany non-residents and non-resident aliens to hunt big game, are also available on BC Hunting Online.

# # #