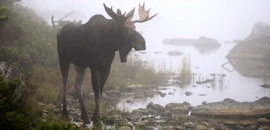 The country's premier hunting and fishing daily news





The Backcountry Outdoor News reports the latest hunting & fishing news along with fishing derbies & tournaments                  from:

--- ©  2010 Backcountry Press Outdoor News - All Rights Reserved                                       

Disclaimer:  The views expressed on this site are that of the authors and not necessarily that of The Backcountry Press Outdoor News



Nebraska 2018 Spring Turkey Permits are Available

Submitted by:  Backcountry Press Outdoor News

Posted on: 02/12/18



Nebraska 2018 spring turkey permits are available.  These permits are sold at Nebraska Game and Parks offices and on the public
online permit system
. Season dates: Youth Archery March 25 - May 31, 2018, Archery March 25 - May 31, 2018, Youth Shot Gun April 7 - May 31, 2018 and Shotgun April 14 - May 31, 2018
A recent survey of Nebraska hunters showed 90 percent of Nebraska turkey hunters were satisfied with their hunt. Most hunting and trapping in Nebraska takes place on private land where trespassing is prohibited by law. Hunters and trappers must get permission before hunting or trapping on private land. The exception is land enrolled in open access programs. Open access land is compiled in the
Public Access Atlas
.
It's not just that Nebraska's got an awful lot of turkeys – including the highly sought-after Merriam's – though it certainly does. Nebraska also offers plentiful and affordable permits, long seasons, great public access and $8 permits for youth.

With a turkey population that's exploded over the last decade, it's no secret turkeys can be found in every county in the state. Hunters will find good turkey opportunities on more than 500,000 acres of public and public-access land in Nebraska.

View the reports below for the latest information on population, harvest rates and more.